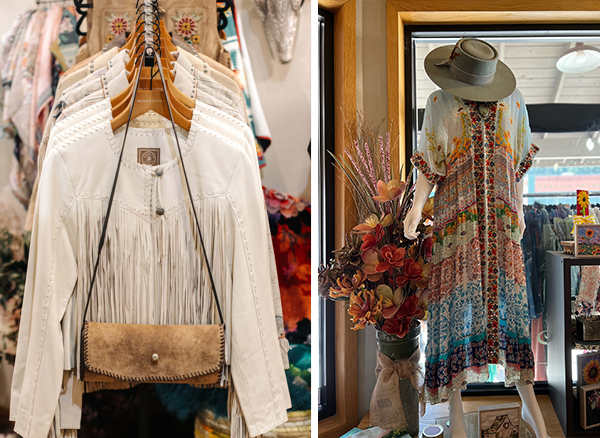 Women's Clothing in Hill City, SD
Boutique Women's Clothing
Jewel of the West stocks a wide range of women's clothing styles. In fact, we probably have the widest choice you will find in the Black Hills of SD. You can find anything here from kimonos to jeans to western wear. Whatever your fashion choice, you will be sure to find something exquisite here that will appeal to you. Visit to see our turquoise jewelry and houseware or contact us today!
Our clothes are designed to be worn every day.
All the garments are sourced from companies that value sustainability and quality workmanship to produce clothes that are just as kind to humans as they are to the environment. Whether you are looking for something for a special occasion or just something special, you are likely to find it here.
The following are the brands you will find in our store.
Johnny Was
Double D Ranch
Tasha Polizzi
Pendleton
Jaded Gypsy
Essitam
Designs By Pat Dahnke
Caite & Kyla
Ivy Jane
Vintage Collection
L7 Designs
FDJ
Scully Leather
J.Forks Designs
Pendleton
Marrika Nakk
Miss Me
Bohemian Cowgirl
Rodeo Quincy
Crown Jewel Brand
Western & Co.
DH New York
Something for the man in your life:
Although we specialize in women's apparel, we also stock chosen man's brands. When shopping for your wardrobe essentials, there is no reason the man in your life shouldn't be spoiled too. The quality clothes will complement your style, and he will love them too.
Some of the Brands to make your man feel special:
Lejon Belts
Pendleton
Scully Leather
Shoes to turn heads
Shoes are an important part of any outfit. They can make a statement or just complement the rest of your outfit. And nothing says: "Hey, look at me!" like that awesome pair of boots. That is why you will find a wide variety of boots at our store. Of course, boots are not the only shoes we stock. Should you be after adorable sandals or casuals, we have them too.
Shoe brands to choose from:
Old Gringo Boots
Liberty Black Boots
BED|STU
A.S.98 Shoes
Dan Post Boots
Lane Boots
Custom Hats to complete your look
The Southwestern style would not be complete without a hat. But not just any ordinary hat. Our hats are all handmade with quality materials and each one is stitched by hand. Each hat is individually made for a discerning wearer. All the hats come from Dusty's Original Custom Hats brand. We stock both women's and men's custom hats.
Brands:
Dusty's Original Custom Hats
Jeans to wear every day
Jeans are such a versatile item of clothing. No wardrobe is ever complete without at least a couple of pairs. They are comfortable for work or play, and if you dress them up with the right top and jewelry, the pair of jeans will carry you straight from work right into the night for that special date or just a girl's night out. Come visit our shop to choose a pair that is so comfortable; you may just want to sleep in them.
We stock Lola jeans that are as authentic as they are sustainable and rooted in all things denim. Only the best will do for our customers.
Brands:
Lola Jeans
Ceros Denim
Oat Denim
FDJ
Perfumes to make him swoon:
Every girl needs her unique scent. The right fragrance makes you feel good and gives you the confidence to get closer to other people. Browse our collections from Annie Oakley Perfumes and Lolita for Women.
Brands in stock:
Fragrances for Men
Men's fragrances are an essential part of personal grooming, allowing you to express your individual style and leave a lasting impression. From fresh and invigorating to bold and sophisticated, there's a men's fragrance for every occasion and taste.
Brands in stock:
Complete your outfit with a selection of handbags and wallets
The beauty, artistry, and quality of our handbags and wallets will surprise you and bring just the right accent to finish off your outfit. It goes without saying that we stock only the best quality leather and material handbags that are handmade and will make your outfit pop.
Brands:
Juan Antonio Handbags
BED|STU
Pendleton
Buffalo Billfold Company
Double D Ranch